The ultimate bucket list continues with geography and nature. If your group is looking for countries to visit that come with a variety of geography and beautiful nature, Ireland is just what you're looking for. Just venture outside of the cities and you'll find yourself hiking up a mountain, strolling along a lake or exploring our stunning coastlines. Explore our choice of 12 top nature attractions now.
1 - Cliffs of Moher, Co. Clare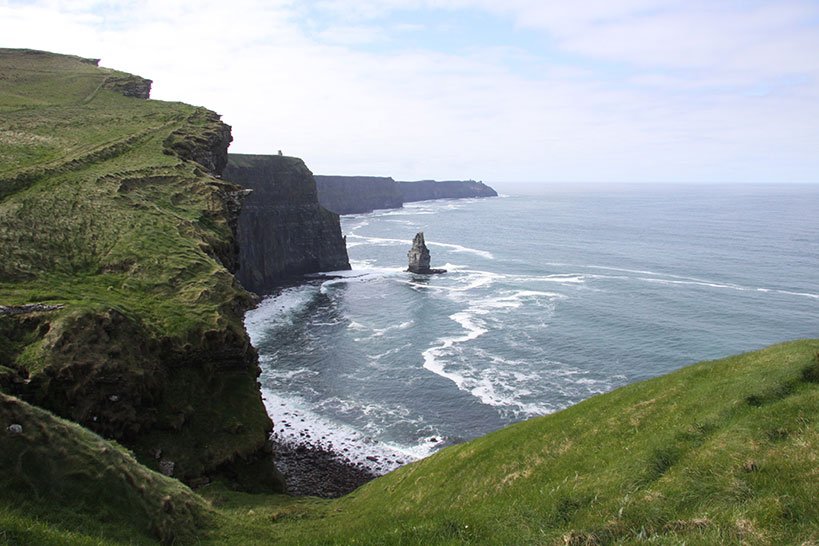 What better place to start than with our no. 1 natural landmark, the Cliffs of Moher? Located centrally on the Wild Atlantic Way, the cliffs tower 200m above the Atlantic Ocean and offer fantastic views. The Aran Islands and Connemara are visible on a clear day, especially from O'Brien's Tower, an observation tower constructed here in 1835. Information about the cliffs and the surrounding area, which is a UNESCO Geopark, can be found at the visitor centre. The cliffs also offer refuge to 30,000 birds from over 30 different species – especially puffins are found in large numbers. Other than that, murres, seagulls and eagles are common species found here.
CGH's top tip is to enjoy the cliffs in a great way is from below, more precisely on the Cliffs of Moher Cruise. You can combine this cruise with a visit to the smallest of the Aran Islands, Inis Oírr, and explore the unique flora and fauna this charming island has to offer.
2 - Aran Islands, Co. Galway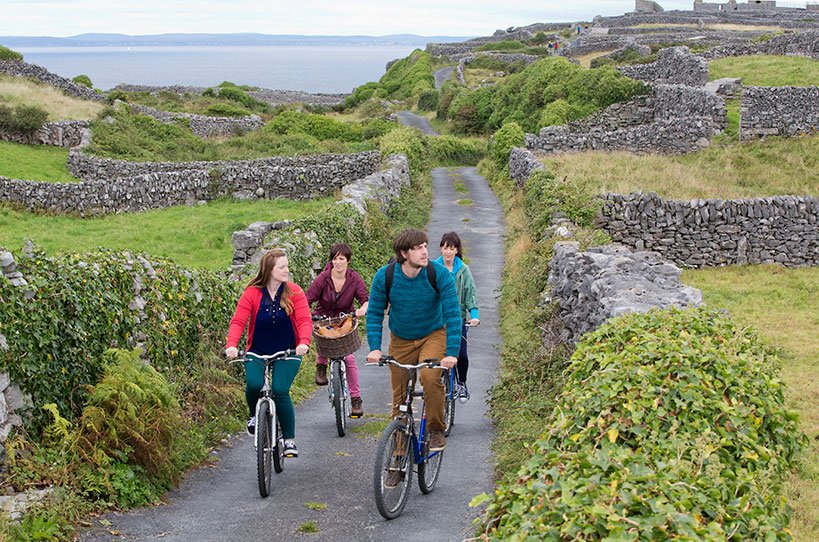 The Aran Islands are a popular tourist destination renowned for their remoteness and unspoilt nature. The three islands are part of a Gaeltacht, so the Irish language is still commonly spoken – this is a great opportunity for your group to hear the language originally spoken by our people all over the country. While you can comfortably walk to an attraction like the Celtic fort Dun Aonghasa, the islands are best explored on a cycling trip – bikes are available for rent at the ferry ports. The geology of the islands is made up mainly of limestone, similar to the Burren on the Irish mainland. The Aran Islands can only be reached by ferry, which travels there from the mainland at regular intervals.
There are two itineraries we can book for your group to visit the islands: if your group is staying in the Burren, we can organise a trip to Inis Oírr. For groups staying in Galway City contact us to arrange a visit to Inis Mór, the largest of the Aran Islands with a great choice of sites to visit. Both are great visits and highly recommended for groups travelling along the Wild Atlantic Way!
If your is group interested in learning more about Irish language and culture, check out our
12 Irish Must-Visits for Cultural & Study Groups
3 - The Burren, Co. Clare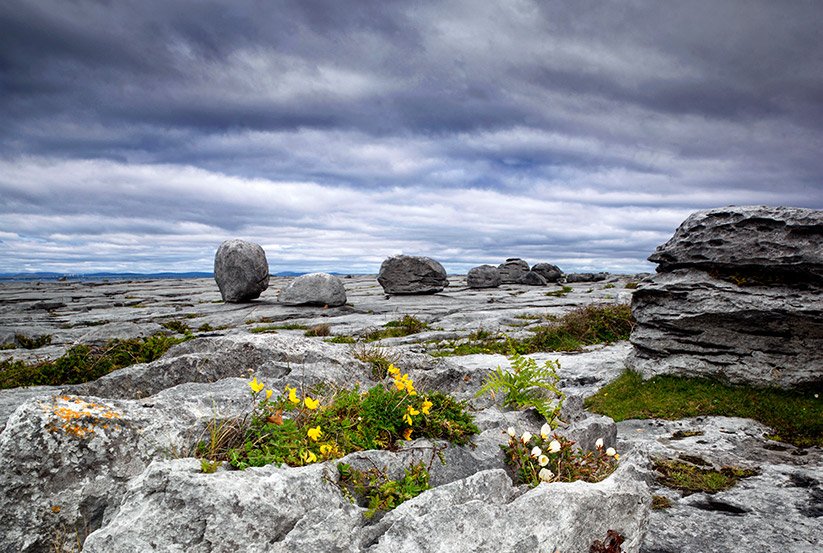 Dominated by a rocky limestone landscape, the Burren in County Clare has many sights to offer. The name of the area is derived from the Irish word "Boíreann", which means rocky place. The Burren does not consist of only rocks however – there are also grasslands, woods, lakes and of course stunning cliffs. There are small mammals, such as hares, foxes of pygmy shrews inhabiting the Burren. Flora in the area is quite odd, as plants usually found in wildly different parts of Europe grow alongside here.
Of course, we have a top tip for groups visiting this unique area: let us organise a Burren Experience Guided Walk! Your own personal guide will take your group on a tailor-made tour of the Burren including magnificent views of the countryside, information about the flora and insights into the Burren's history and the people who made their living here. Your guide will meet your group at the Burren National Park, so if they are staying in the Burren or in Galway City, we can arrange a coach to pick them up at their accommodation at the agreed time, take them to the meeting point and drop them off back at their hostel at the end of the walking tour.
4 - Wicklow Mountains, Co. Wicklow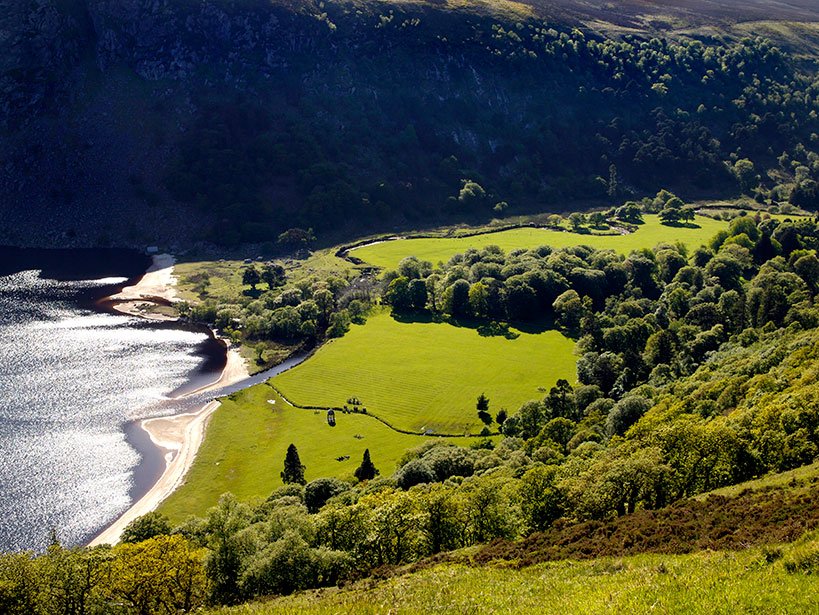 County Wicklow is known as the "Garden of Ireland" for good reason – you can see the lush green county yourself with your group on a day trip from Dublin, either by coach or on a scheduled day trip. Visiting the Wicklow Mountains, Lough Tay, also known as The Guinness Lake, the monastic site of Glendalough, the Valley of Two Lakes will bring you closer to nature, no matter whether you enjoy it during a tour of the mountains in your coach or while hiking through the hills yourself. The lakes will offer a serene backdrop to your tour no matter how you choose to explore the valley.
5 – Howth, Co. Dublin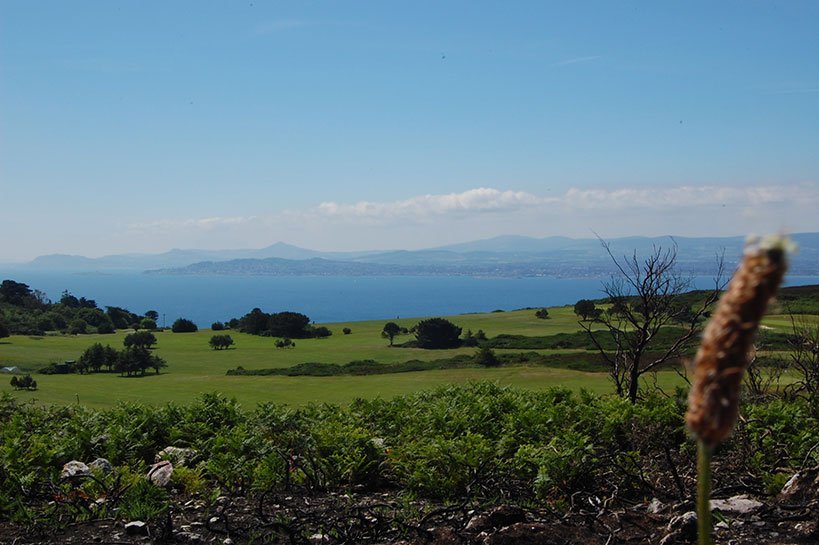 Howth (pronounced like "both") is a peninsula just a 20-minute DART train journey from Dublin. Known for its charming little harbour and fantastic seafood restaurants in the fishing village of the same name, Howth also has a small hinterland with great hiking trails. A hiking tour up the hill to the Ben of Howth or along the sea on the Howth Cliffside Walk is a great way to simply enjoy the stunning nature and great views of this fishing town for a couple of hours. To make your trip to Howth even more fun and interesting, book a guide with us: Shane's Howth Hikes is best suited for a wildlife adventure, while Pat Liddy's Howth tour is great if the history of the village interests you.
Your group can either arrive via the DART train from Dublin or for your groups convenience let Celtic Group Hostels hire a coach for you – both routes offer great views of Dublin's coastal suburbs.
6 - Connemara National Park, Co. Galway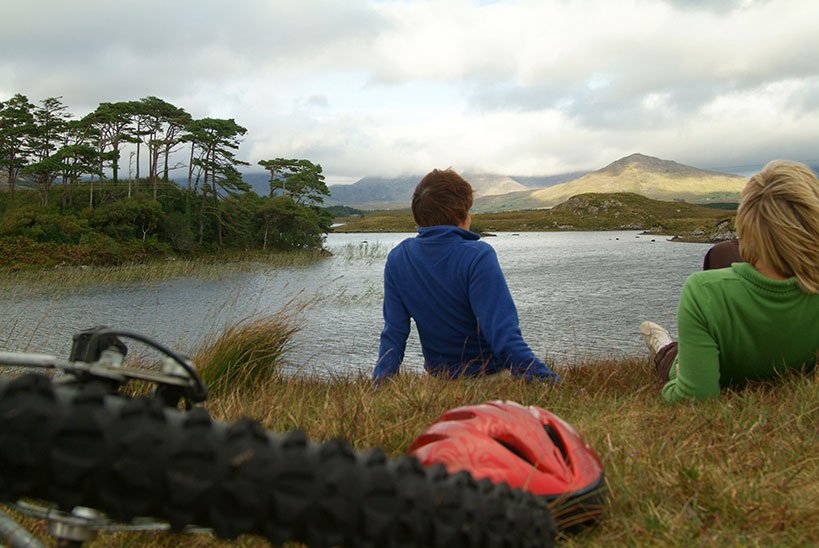 Northwest of the Twelve Bens mountain range lies Connemara National Park, which has been set up there to preserve the flora and fauna of the area. The park comes with a visitor centre, where your group can learn about the most popular hiking trails and the best spots for free. The area consists mostly of bog- and heathland and is often covered in purple moor grass, which dominates the colour of the landscape outside of the Winter months. A herd of Connemara Ponies is held in the park and smaller mammals such as rabbits appear as well, most of them however at night.
For those who can't get enough of Connemara's incredible nature, we've got a top tip: after hiking in the National Park, take a break at Kylemore Abbey, and enjoy the famous scones with some tea and then explore the mansion, Neo-Gothic chapel and walled garden and admire the surrounding mountains and lakes. For your convenience, we can hire a coach that will take your group to Connemara and allow them to explore its stunning scenery and wildlife.
7 – Doolin Cave and Aillwee Cave, Co. Clare & Mitchelstown Cave, Co. Tipperary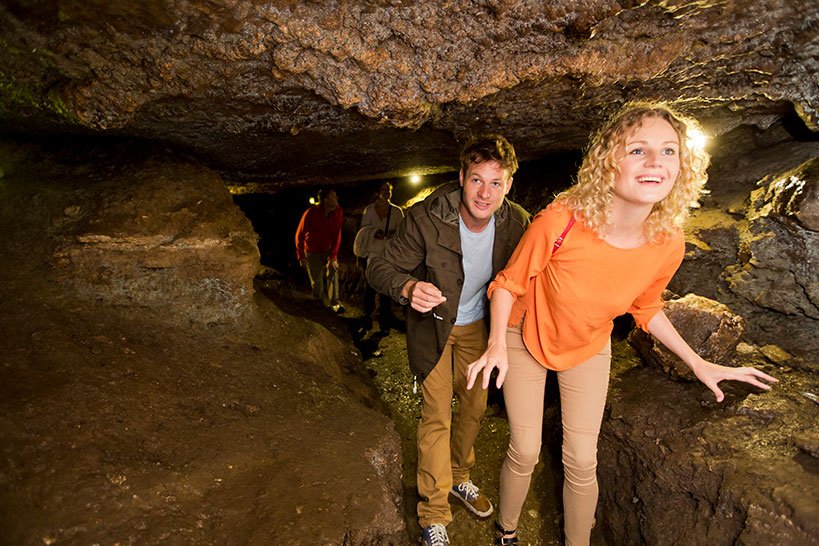 Seeing the minerals, stalactites and stalagmites found in an underground cave should be on everybody's bucket list. If you haven't yet done that or simply enjoy cave exploring, Ireland has a lot to offer – we've got magnificent caves in practically every corner of the island. Some of our favourites we can book for you include Mitchelstown Cave not far from Cork, Doolin Cave just around the corner from the Cliffs of Moher and Aillwee Cave in the Burren, which comes with a fantastic outdoors bird of prey centre as a bonus. Groups interested in zoology will have a field day here!
8 - Dublin Zoo, Co. Dublin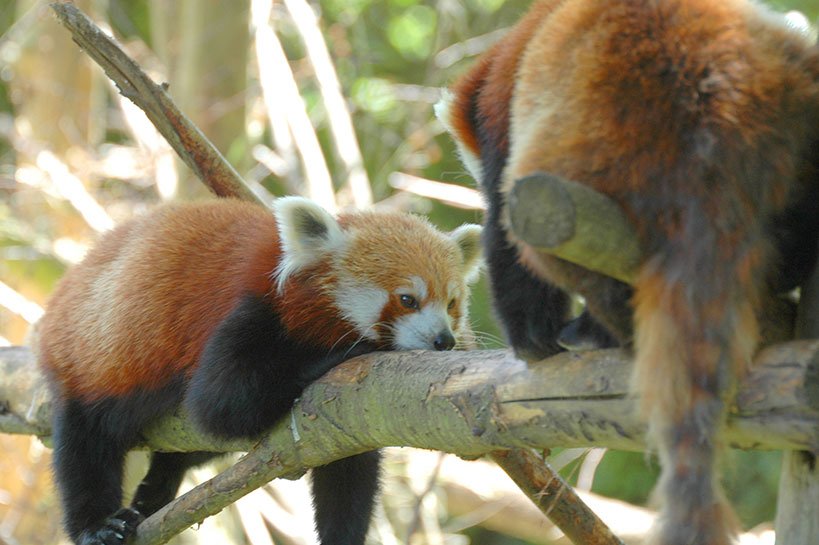 Founded in 1831 with just 46 mammals and 72 birds, Dublin boasts one of the oldest zoos in the world. Today, the zoo has grown to 28 hectares with habitats for animals from all over the world. The giraffes and elephants are all there of course, but there are also red pandas, scimitar-horned oryxes, star tortoises and two-toed sloths to see for your group. Like many larger zoos, Dublin Zoo actively supports conservation efforts both around the world and in Ireland.
The zoo is at just 30 minutes from the city centre by bus – we recommend taking the 46a public bus, but there are many other buses to take your group over there from O' Connell Street. You can also take the Luas tram to Phoenix Park.
9 – Slieve League, Co. Donegal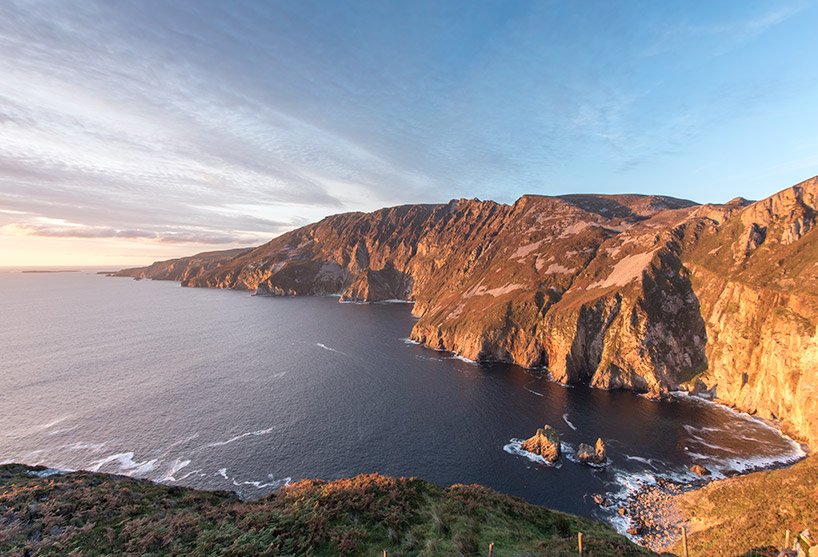 Located in remote Co. Donegal, the cliffs of Slieve League are often overlooked when talking about Ireland's geographical highlights. At 601m, they are among Europe's highest cliffs and the views here are simply stunning. This is one of Ireland's most photogenic places, so hobby photographers will definitely have a field day here. The cliffs are perfect for a hike, as a panoramic mountain path leads right up to the best spots.
To get to Slieve League, you will need to hire a coach for your group. All you have to do is bring proper hiking boots, stamina and good weather.
10 - Fota Wildlife Park, Co. Cork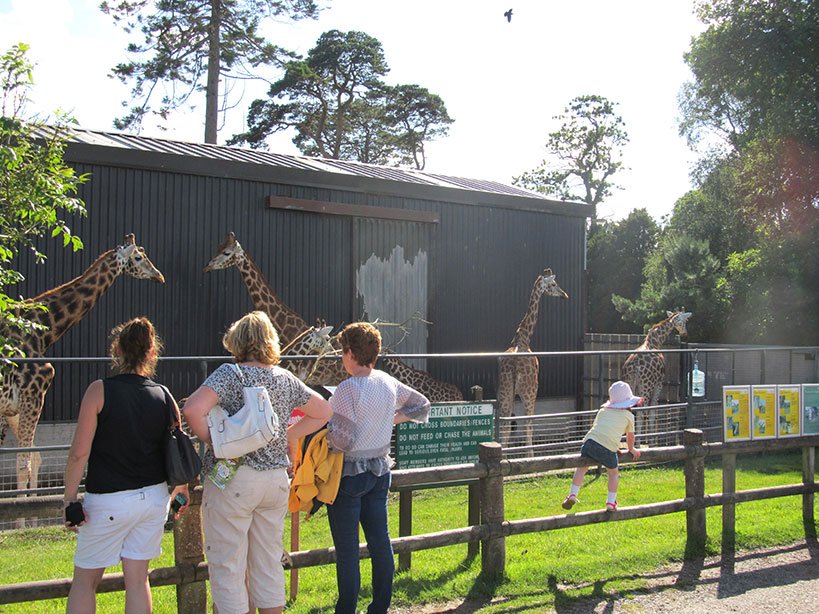 If zoos are a little too restrictive for your taste or you would like to come closer to some of the animals, Fota Wildlife Park near Cork is a great alternative to the country's other zoos. Smaller animals like monkeys and kangaroos can be seen from up close - lions or giraffes have their own enclosures, of course. If you wish, the park's award-winning education department will make sure your group leaves Fota Island well-informed on animal conservation, the challenges it faces today and the work organisations like Fota do to help.
Your group will need to hire a coach to go to the other side of Lough Mahoon from Cork, which we can arrange for your convenience. So now that you've got a coach, why not continue exploring Cork's countryside further with a visit to the harbour town of Cobh, for example?
11 – The Giant's Causeway, Co. Antrim, Northern Ireland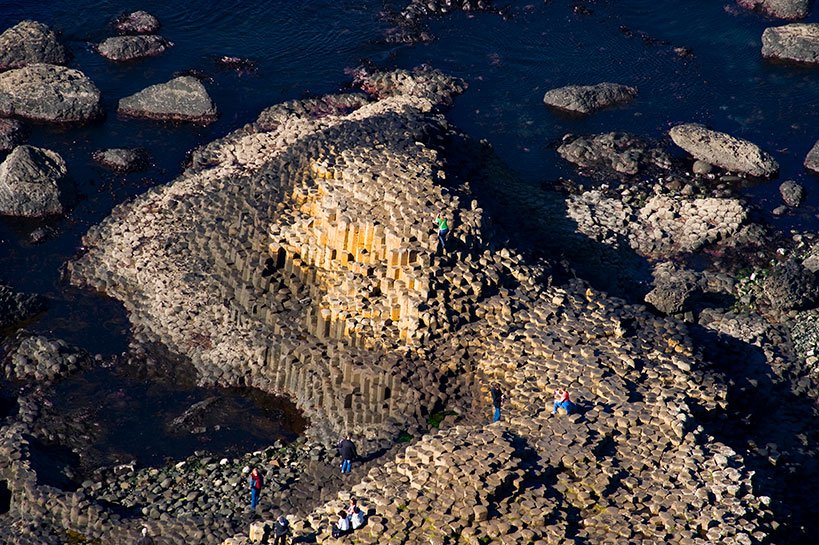 Alongside the Brú Na Bóinne and Skellig Michael, the Giant's Causeway is one of Ireland's three UNESCO World Heritage Sites. It is made up of over 40,000 interlocking basalt columns, most of which are hexagonal. Contrary to legend, they were formed by a volcanic fissure eruption, not by the giant Fionn mac Cumhaill. If your group is into nature and geology, they will surely have a field day trip here.
The Giant's Causeway is located on the northern shore of the historic county Antrim in Northern Ireland –why include a day trip to Northern Ireland in your itinerary, including some of the great sights along the Causeway Coast? Don't forget to get some Pound Sterling beforehand though!
12 – The Ring of Kerry, Co. Kerry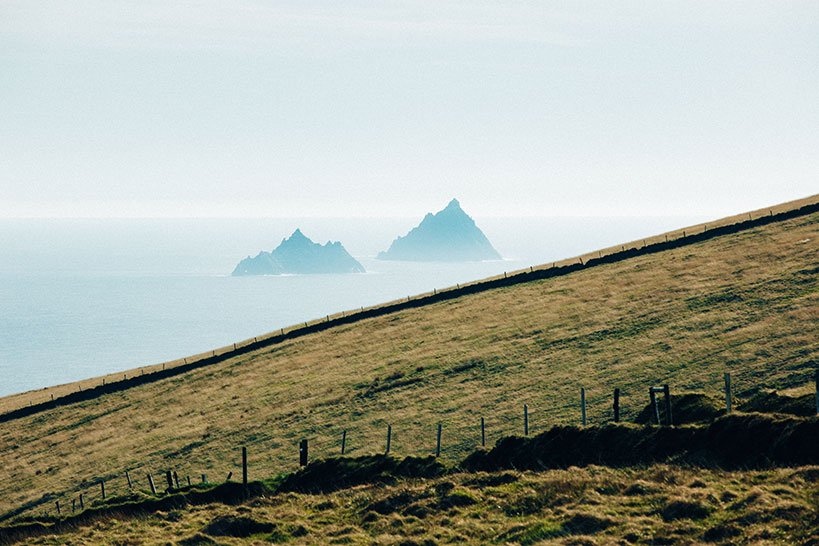 ​
The Ring of Kerry is a famous route going around the Iveragh Peninsula on 179km. It is known for its remote, beautiful nature and the great sights along the way, such as Killarney National Park, the Skellig Islands, which are visible off the coast, the Ladies View viewpoint or the Gap of Dunloe, a narrow mountain pass. Aside from seeing the sights by bus, which you can book right here with Celtic Group Hostels, hiking is the most popular way to explore the area – this also offers the opportunity to go off the beaten track a bit. There are official routes for both hiking and cycling if your group wants to follow the recommended way, which features plenty of sights.
Now that you're well informed on all the lush natural sites and attractions Ireland has to offer, you're probably eager to come and see it for yourself. Take the hassle out of planning your group trip and let Celtic Group Hostels arrange it all for you now.