Accommodation in Ireland for Student Group Tours
CGH specialises in organising centrally located, student-friendly accommodation In Ireland for school and youth trips.
Booking accommodation in an unfamiliar country can be daunting. It can be difficult to know if you're getting a good deal, if the accommodation is in a safe and central location or close to the places you want to visit.
That's where CGH comes in. We have been organising student group tours to Ireland for over 29 years, and we have an extensive network of accommodation options all across the country that are perfect for educational tour groups.
Where can you stay ? Student group accommodation in Ireland :
Hotels within walking distance of the top attractions in Dublin and Belfast
Activity Centres in some of the most scenic beauty spots in Ireland in the great outdoors

Free Luggage Storage

City Centre

Free Breakfast

Self-Catering Kitchen

Onsite Restaurant

Scenic Location






Abbey Court Hostel
Located right next to O'Connell Bridge, on the river Liffey's Northside, the Abbey Court Hostel prov…




Abigails Hostel Dublin
Abigails Hostel is one of Dublin's most modern and centrally located Hostels. Located on Aston Qua…




Ashfield Hostel Dublin
Ashfield Hostel is Dublin' most centrally located hostel situated between Trinity College and O…





Harcourt Hotel Dublin
Where is the Harcourt Hotel Dublin? The Harcourt Hotel is located just off the corner of St St…










Sheila's Hostel Cork
Sheilas Hostel is the longest and most established hostel in Cork city centre. The hostel boasts an…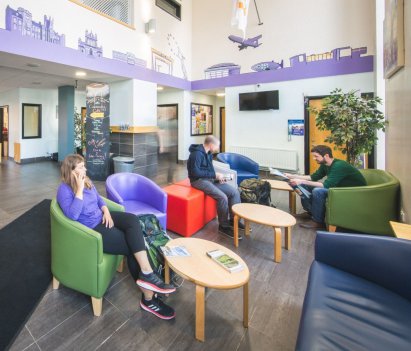 The Connemara Hostel
The Connemara Hostel is the perfect base for groups to explore the breath taking landscape of the We…




Gabriel House Hotel Cork
Gabriel House Cork city provides budget hotel standard accommodation for groups of all ages at very…



Travelodge Hotel Swords
Where is the Travelodge Hotel Swords? The Travelodge Hotel Swords is located in the North Dublin sub…




Arlington Hotel Dublin
Where is the Arlington Hotel Dublin? Overlooking the River Liffey, the Arlington Hotel is located in…



Travelodge Hotel Belfast
Where is the Travelodge Hotel Belfast? The Travelodge Hotel Belfast is located on Brunswick Street…
We only let you stay where we would stay!
CGH has visited all our recommended hotels and hostels. Our preferred accommodation partners meet our high standards and offer comfortable and safe places for your student group to stay. We assure you that we only let you stay where we would stay.
Our full-service guarantee.
We take the stress and worry out of arranging accommodation for your student group trip to Ireland and Northern Ireland.
CGH has spent decades booking accommodation for student groups in hostels, hotels, and activity centres, so we know all the best places to stay.
We handle your bookings and take care of all the details. You just have to show up and check in.
Our team can organise all aspects of your group trip including activities, coaching and meals – we are a one stop shop.
We also have a 24-hour emergency phone line — if anything unexpected happens, we are just a phone call away.
Contact CGH
Contact us now to discuss your requirements or complete the our group booking form