Option 2 – The Joint Falls Road & Shankill Walking Tour
Overview
This tour will allow student groups to visit the nationalist republican Falls Road area with its own spectacular murals on the world-famous International Peace Wall and the unionist loyalist Shankill Road. In addition to visiting the mural marking the historic hunger strike of 1981, which is dominated by the character and persona of Bobby Sands.

Both parts of the tour will be guided by a former political prisoner/activist from the area.This tour allows group visitors to see the British/Irish conflict from several perspectives, learning about everyday life in both communities.

The joint Falls Road and Shankill political tour is an examination of both republican and loyalist viewpoints. It is also a very individual and emotive tour because both guides will have played and keep playing a role for their community, and some of them or their family members were political prisoners in Crumlin Road Gaol.
Why this Political Tour for student groups?
This tour is perfect for student groups seeking to comprehend the origins of the recent phase of the British/Irish conflict and how it has impacted and still impacts today's life in Belfast. For the guides, this project is a living history. They are a key source and an invaluable link to the most recent phase of the struggles.
Their stories are real-life from events, and they are a very moving and powerful experience for student groups – learning on the ground and outside of the classroom in a very emotive and immersive environment that will completely captivate them.
Starting Point of the Tour- depends on the size of your group and if they will need to be split and do the tour in two parts. If your group is being split – one part of the group will do the Falls road part firstly with a republican guide, and the other half will do the Shankill road with a loyalist unionist guide, and then they will switch over at Lanark way and do the opposite part of the tour.
For a Republican area only tour version visit Falls Road Walking Tour by Coiste
Photo Gallery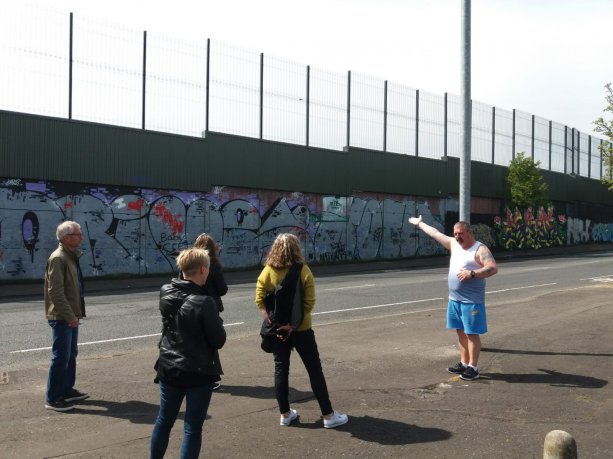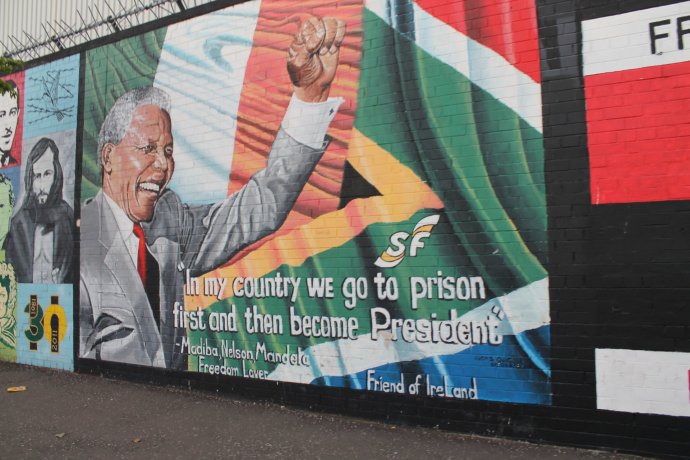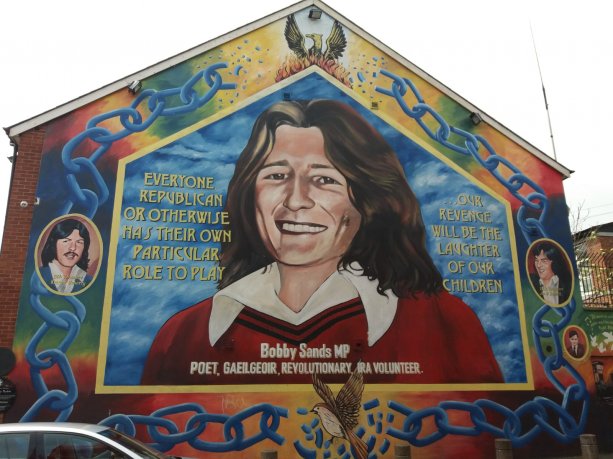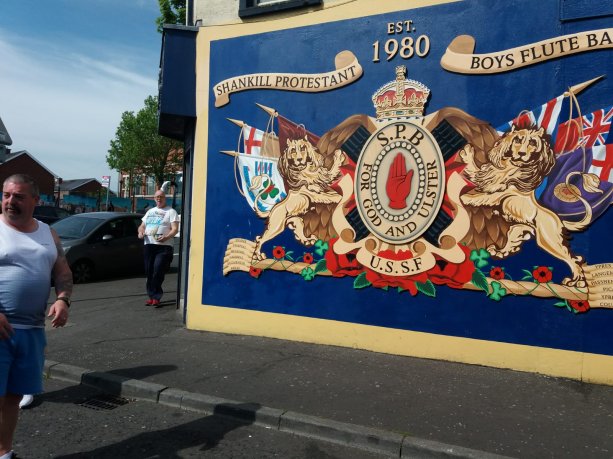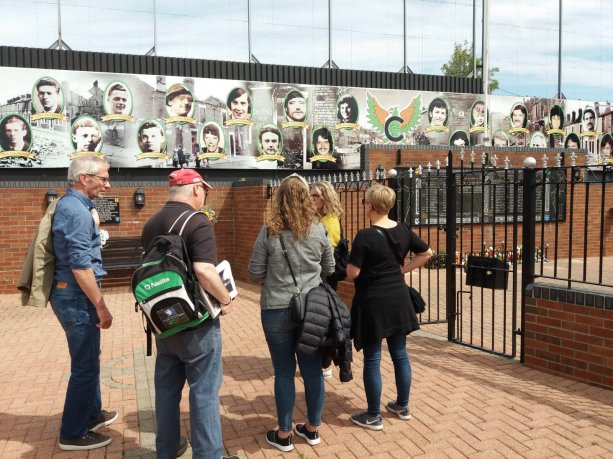 Useful Information
Running Times
Private tours run all year.
Notes for Group Leaders
Groups over 20 persons will be split, and one half will commence at the Falls road with a Republican Guide; while the other half commences at Shankill with a Loyalist Guide and then they will rotate
Only English language guides are available.
Tour Duration
3 hours (1 ½ hrs on the Falls Road & 1 ½ hours on the Shankill Road).
Meeting Points
Falls Road - Republican part of Tour @ Divis Tower at the bottom of the Falls Road
Shankill Road – Unionist Loyalist part of tour usually at Spectrum Centre or Conors corner near the Shankill Road.
Exact meeting points will be confirmed at the time of booking depending on whether your group will need to be split or not.
Start Time
Tours are available all day. However, for groups traveling from Dublin for the day - with an 08:00 hrs pick up in Dublin – we recommend starting this tour at 10:45 hrs. The tour will then end at 13:45 allowing the group time for a lunch stop (packed lunch or sit down lunch can be arranged – contact us for details) before commencing afternoon program.
If your group is not interested in a walking tour but still wants to experience a political tour of Belfast – don't worry we have the perfect alternative for them – the famous Black Taxi Cab Belfast Mural Tour
Location
Inspiration
What to do on your group trip
Why choose CGH?
Great Central Hostels
Choose from the top hostels in Ireland situated in ideal locations for group tours (2,500 hostel beds).
Unique Experiences
Book airport transfers, tours, attractions, meals plus lots more to make your group trip memorable & unique.
Local Expertise
Benefit from our 29 years' experience in handling over 800 groups to Ireland per year (30,000 students).