Black Taxi Cab Belfast Mural Tour (the Belfast Black Cab Tour)
Overview
Black Taxi Cab Belfast Mural Tour - was established in 1970 and are the original and official Belfast black taxi cab tours company operated by taxi tours. We highly recommend this tour to educational groups of all ages visiting Belfast for the first time. They will experience an extraordinary story about the way people lived during some of the worst troubles Northern Ireland has ever suffered.
Their guides will take your student group on an educational and enlightening journey through sites of historical and political interest, explaining the significance of the Belfast murals and show you key landmarks throughout Belfast City. Your group will learn the history and politics of Belfast and Ireland, particularly about the period known as 'the troubles.'

Your Belfast Tour guide will expertly explain to your school group how the murals help tell the story of the conflict and how we arrived at the current peace process. This Belfast Tour focuses on 'both sides' of the communities. Visiting the mainly Catholic (or Nationalist) Falls Road, then crossing the peace line or peace wall that continues to separate both communities, your group will then explore the mainly Protestant (or Unionist) Shankill Road. Both sides have used murals to tell their stories, celebrate their past, and raise awareness about how political decisions affected their communities.
All tours for student groups are provided in the original Belfast black cabs. During the tour, there will be plenty of opportunities for your group to take lots of photos along the route and ask their guide questions that will draw in from their personal experiences of growing up in Belfast giving them a unique insight into this period of history. Their guides are local people with local knowledge and have lived through the conflict in Belfast.
What is included in the Black Taxi Cab Belfast Mural Tour for your student group?
Your groups' Belfast Tour commences with an introductory talk by your tour guide – who sets the context of the Belfast Tour and explains the series of events leading up to August 1968.
The International Peace Wall and the Republican murals in West Belfast
Loyalist Murals on the Shankill Road (West Belfast)
Crumlin Road Gaol (Prison) and Crumlin Road Courthouse (North Belfast). (outside view only)
Visit the peace wall where your group can write your message of peace.
Bombay Street, destroyed by fire in 1969.
Bobby Sands mural.
Visit a memorial garden.
Photo Gallery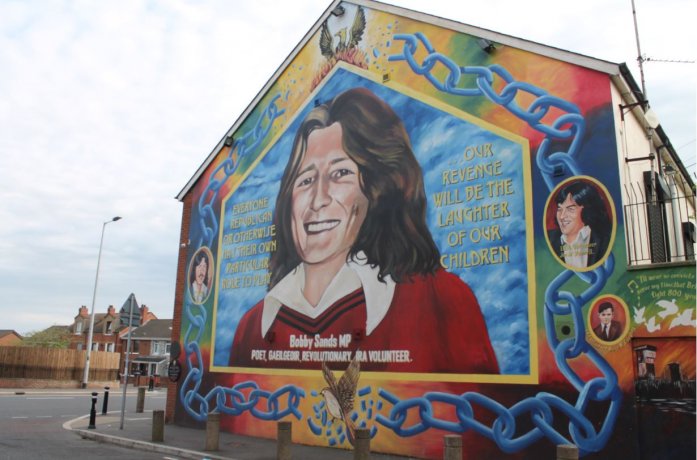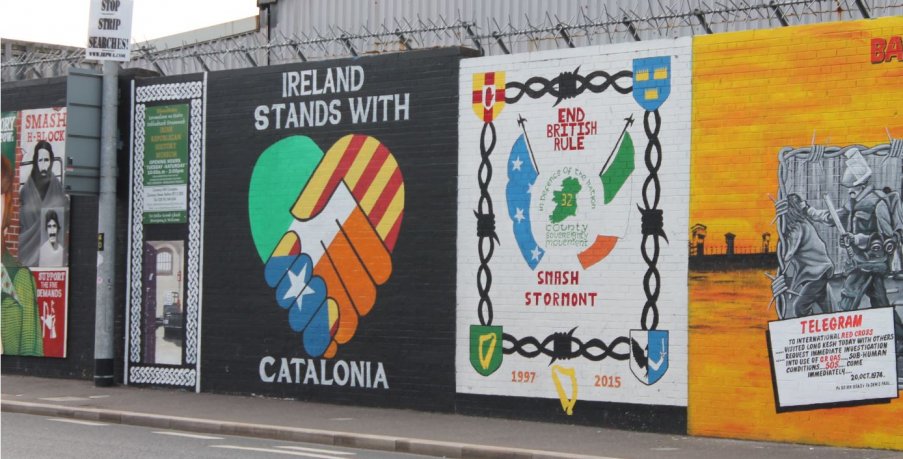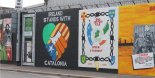 Useful Information
Running Times
All year subject to availability.
Notes for Group Leaders
How does it work for student groups? We allocate four students per black cab for comfort, and groups are then split between multiple black cabs that travel together – each with their experienced guide.
Are all taxis the original Belfast black cabs? Yes, all taxis are original black cabs.
Tour Duration
Typically 90 mins, but you should allow 2 hours if your group have lots of exciting questions. The black taxi tour guides are very enthusiastic and knowledgeable and will want to give your group the most satisfying experience.
Meeting Point
For groups traveling from Dublin - 11.15 would be the earliest pickup time. The best place for the pick up by the black cabs would be outside of the Titanic Centre. The coach can pull in and park and drop the group off, and the black cabs will be parked waiting for the group. After the tour, the groups can be dropped back to this point to meet up with their coach. Black cab timings available all day.

Ref Belfast based groups – can be picked up from your groups' hostel/city centre agreed location ( just need to ensure parking for the black cabs to pick up from. Timings available all day (subject to availability) After the tour, the group can be dropped back by the cabs to their pick up point..
Location
Inspiration
What to do on your group trip
Why choose CGH?
Great Central Hostels
Choose from the top hostels in Ireland situated in ideal locations for group tours (2,500 hostel beds).
Unique Experiences
Book airport transfers, tours, attractions, meals plus lots more to make your group trip memorable & unique.
Local Expertise
Benefit from our 29 years' experience in handling over 800 groups to Ireland per year (30,000 students).