Hire a Coach with Us for Your Group for a Full Day
Overview
If you are planning to take your group to visit an attraction or a location outside Dublin City, we highly recommend hiring a coach with us for a day. Our drivers can either take your group to your chosen attraction and take them back to Dublin at the end of the visit or drive your group through the region you would like to explore. A full-day coach hire covers a maximum of 8 hours hire, from the moment the coach picks your group up until they are dropped off again at their departure point. Time spent at attractions, lunch stops etc during the hire counts towards the 8 hours.
Here are some of the reasons why your group will benefit from a full day coach hire:
Convenience: one of our reliable drivers will be waiting for your group at your chosen accommodation or pick-up point at the agreed time.
Flexibility: you can customise your itinerary and include some stops and visits on the way. You can also add additional hours up to EU regulations.
All group sizes covered: we have loads of coach sizes to cater for your group, so don't worry, we've got you covered.
Safety: all our coaches are modern and meet the EU criteria as regards to safety requirements – for example seat belts included for all passengers.
We are always here to assist you - 24/7 Availability in case of Emergency Situations
If you are experiencing any issues with your coach hire, you can contact us – we offer support to all our groups in Ireland 24 hours a day, 7 days a week, all year.
Popular Destinations our groups hire a coach to visit include:
1 - Wicklow
The Wicklow Mountains can be seen from Dublin City and a day tour over there will allow your group to explore stunning natural landscapes like Glendalough, also called the "Valley of the Two Lakes" and the Guinness Lake.
2 - Boyne Valley
The Boyne Valley in Ireland's Ancient East is a great tour for groups interested in ancient history. They will be able to admire passage tombs older than the pyramids of Giza at Loughcrew, the Anglo-Norman Trim Castle and Monasterboice with its round tower and high crosses.
NOTE: our drivers generally stick to a set route, but you can request some changes to the itinerary (unless you are headed to a specific attraction).
If you are hiring the coach for a day, we recommend adding up to 3 visits to make it more interesting and fun. If you are not sure as regards to the attractions, we can help you schedule your itinerary with loads of great suggestions and book them for you.
Our drivers don't provide information about sites and attractions, so if you feel unfamiliar with the region you are going to see we highly recommend you upgrade your full day coach hire to include an English Speaking Driver Guide.
Here is what you have to do to book your coach now:
Click on book now on the right-hand side of this page and complete our group booking form with the following details:
Number of passengers
When you would like to hire your coach
Where you would like to go and what you would like to do
Try to complete our group booking form with as much information as possible and we will get back to you with a quote in no time.
Photo Gallery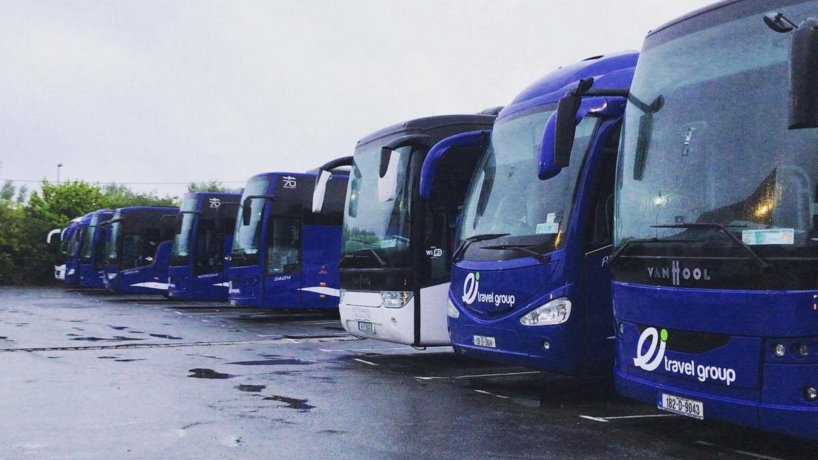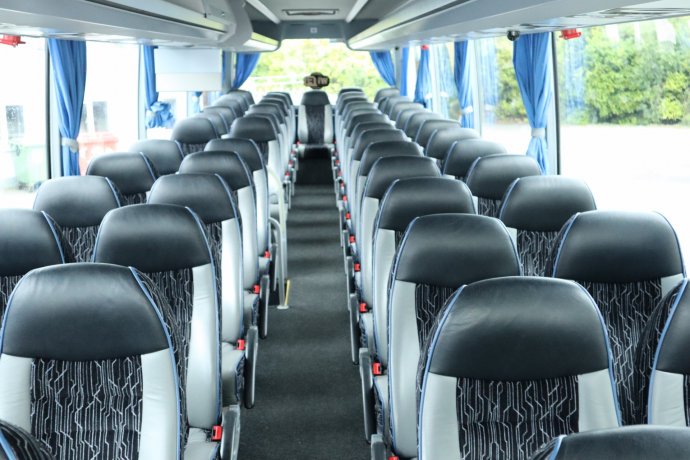 Useful Information
Notes for Group Leaders
If your group is taking a bus out for the day without a scheduled lunch, it's a great idea to bring a packed lunch along.
Please note that destinations like Belfast/Giants Causway are not covered under a standard 8 hrs full-day hire. You will need to book an extended hire (10+ hours) with us and we can advise you on the most cost effective options for your group.
If you are not sure how much time you will need for the attractions you want to visit, our team will gladly help you with planning.
Operating Times
All year.
Meeting Point
Outside your group's accommodation in Dublin. Please make sure that your group is ready to depart 10 minutes before the pick-up time.
Location
Our Insider Tips
Tip: When you inquire about your desired destination for your coach hire. One of our experts will be able to advise you how to organise your day and coach hire to keep your costs down and get the most from your day.
Inspiration
What to do on your group trip
Why choose CGH?
Great Central Hostels
Choose from the top hostels in Ireland situated in ideal locations for group tours (2,500 hostel beds).
Unique Experiences
Book airport transfers, tours, attractions, meals plus lots more to make your group trip memorable & unique.
Local Expertise
Benefit from our 29 years' experience in handling over 800 groups to Ireland per year (30,000 students).