Irish Dancing Demonstration & Lesson in Dublin
Overview
After the phenomenal success of Riverdance – Irish Dancing is now famous worldwide and it is one of the most popular activities that tourist groups of all nationalities want to experience when they are in Ireland.
There are many venues that offer traditional Irish dancing and music sit down shows. However for student groups – it's all about the hands on experience and trying it out for themselves. They don't just want to sit and watch a show they want to participate and get involved. We can offer groups the opportunity to learn the basic steps of Irish dancing from All Ireland professional dancers and then to practice the steps they have learned in an Irish dancing ceilí session.
What to expect for your group with this experience?
A qualified Irish dancer will meet your group at the agreed day and time booked (This is a day-time experience only available until 16:00 hours and the lesson will last 90 minutes)
The Irish dancing lesson will take place in a city centre venue, normally at O'Shea's Hotel ballroom as there will be lots of space for the group to show off their dancing skills!
The instructor will start the session by teaching your group the core dance steps. 1,2,3 and 1,2,3,4,5,6,7 or as we say in Irish "aon, dó, trí" agus "aon, dó, trí, ceather, cuig, sé, seacht", along with some clapping and ceilí swings. This is all designed to encourage the group moving together, everything is done at a walking pace first, then they speed things up. The instructor moves around the group as they teach - demonstrating and encouraging student participation all of the time.
Next they will also teach them up to 3 traditional Irish dances for example The Peeler and the Goat / The Haymakers Jig / The Siege of Ennis.
The lesson concludes with a dancing session where the group will put into practice the skills they have learned. (Leaders watch out .......you will be asked to join in as well).
This is a hands on fun experience for groups trying out a unique dance experience to Ireland – lots of energy is required!
If you have already everything planned out for your stay in Dublin during the daytime periods, but still want to get an Irish dancing experience, we can book a traditional Irish Evening at O'Shea's for your group, where they will have dinner followed by an Irish music and dancing lesson conducted by an experienced instructor.
Photo Gallery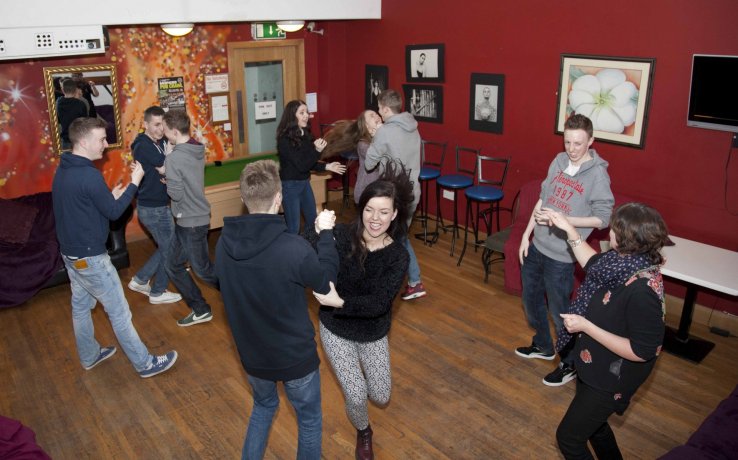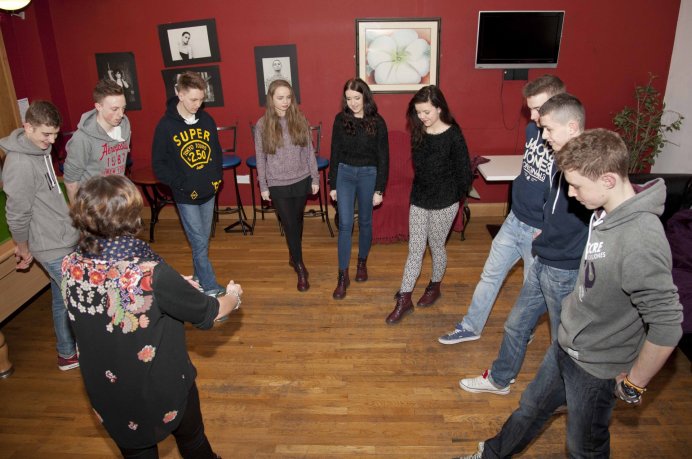 Useful Information
Running Times
All year. This is a daytime experience only and can be booked up to 16.00 hrs
Notes for Group Leaders
Minimum 20 people per session.
Maximium 40 people per session for the ballroom hire - larger groups will be split into two sessions.
Supplement applies per group for ballroom hire at O'Sheas Hotel.
Duration of the Session
Approximately 90 minutes
Address
Ballroom at O'Sheas Hotel, 19 Talbot Street, Dublin 1
Location
Inspiration
What to do on your group trip
Why choose CGH?
Great Central Hostels
Choose from the top hostels in Ireland situated in ideal locations for group tours (2,500 hostel beds).
Unique Experiences
Book airport transfers, tours, attractions, meals plus lots more to make your group trip memorable & unique.
Local Expertise
Benefit from our 26 years' experience in handling over 800 groups to Ireland per year (30,000 students).