Glasnevin Cemetery Guided Tour and Museum in Dublin For Organised Groups
Overview
Glasnevin Cemetery Museum is one of Dublin's most popular tourist attractions and with its 124 acres, it is also Ireland's largest cemetery. Since 1832, more than one and a half million people have been buried here. Nowadays this attraction is running daily a series of guided walking tours to uncover the life of both famous and lesser known historical figures.
Led by a very knowledgeable and passionate group of guides, the tours at this attraction will give your group a valuable insight into this unique Victorian burial place and the final resting place of the men and women who have helped shape Ireland's past and present. The cemetery is host to a wide range of interesting people; from politician and activist Daniel O'Connell, leader of the Dublin lock out James Larkin, Michael Collins, a leading figure in the Irish War of Independence, to the father of the author James Joyce.
CGH highly recommends the Irish History Tour for student groups - details below :
Irish History Tour
This tour will offer your group a general overview of the history of Glasnevin Cemetery and will take them to the graves of the historical characters who played a decisive role in shaping the course of Irish history to the present days. A few examples are Daniel O'Connell, Michael Collins, Roger Casement, Charles Stewart Parnell and Countess Markievicz. Your guide will also mix historical information with anecdotes about the famous people buried in this cemetery, making the tour even more memorable.
** A self-guided visit to the exhibition at the visitor centre is also included with the walking tour.. This visit is interactive, informative and at the same time houses several interesting exhibitions such as the "City of the Dead", whose aim is telling the history of the major historical figures buried in the cemetery. To make this visit even more exiting, it also hosts a genealogist that can help your group to find out if they have any Irish ancestors. At the end of the self guided tour, your group can chill out at the café and browse the souvenir shop.
Is your group interested in learning more about Irish History and particularly 1916 ? We would highly recommend you including in your Dublin Group Itinerary the 1916 Rebellion Walking Tour led by the famous Lorcan Collins.
Photo Gallery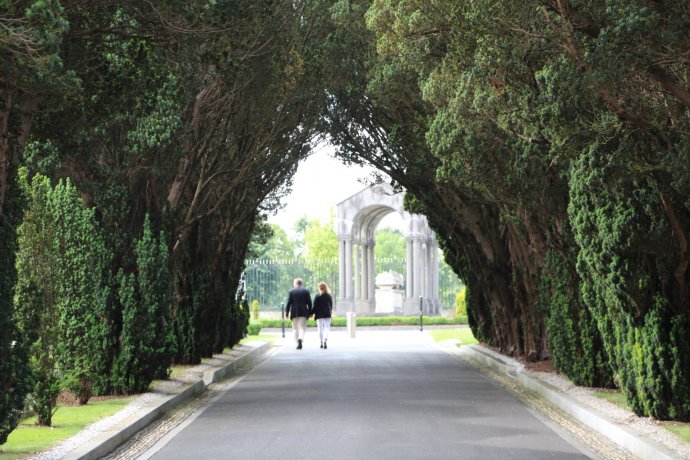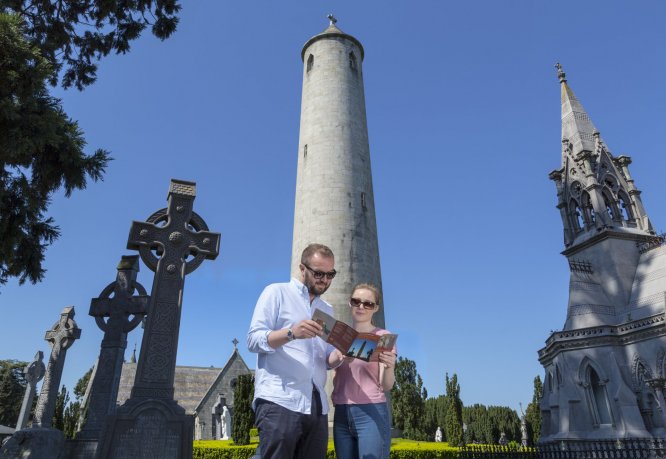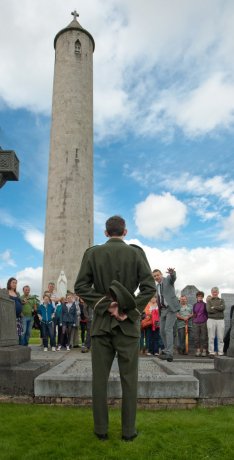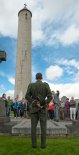 Useful Information
Opening Hours
Monday to Friday: 10.00 – 17.00 hrs
Saturday, Sunday and Bank Holidays: 10.00 – 18.00 hrs
Private tours for groups can be arranged during the opening hours.
Notes for Group Leaders
Please be aware that Glasnevin Cemetery Museum is located at about 15 minutes-drive from the city centre. We recommend you either take the public bus routes 40/140 from O'Connell Street to get there, or let us arrange a private coach transfer for your group.
A visit to the O' Connell Tower is also possible for a supplement, however its access is limited to a maximum of 6 people at one time. The Museum has a strict supervisory rule regarding the access to the tower. Students under 16 years old must be accompanied by an adult, with a ratio of 1 leader / teacher for a maximum of 3 students. Children under 8 years old are not allowed to climb the tower.
Duration of Visit
A guided tour lasts approximately 70 minutes and allow access to the visitor centre.
Address
Glasnevin Cemetery, Finglas Road, Glasnevin, Dublin 11
Location
Inspiration
What to do on your group trip
Why choose CGH?
Great Central Hostels
Choose from the top hostels in Ireland situated in ideal locations for group tours (2,500 hostel beds).
Unique Experiences
Book airport transfers, tours, attractions, meals plus lots more to make your group trip memorable & unique.
Local Expertise
Benefit from our 29 years' experience in handling over 800 groups to Ireland per year (30,000 students).