Explore Neolithic Monuments and Tombs
Overview
Brú Na Bóinne, which translates to "the Palace of the Boyne", is one of Irelands most important historical sites and one of the world's rare windows into prehistoric history. The visitor centre interprets the Neolithic monuments of Newgrange, Knowth and Dowth, built over 5,000 years ago, which makes them older than the Pyramids. The monuments' considerable importance to archaeology and Irish heritage have lead to their declaration as a UNESCO World Heritage Site in 1993 and they are a cornerstone of Irish history you can explore in the Ancient East.
The extensive exhibition at the visitor centre focuses on the ancient Celtic people, who have settled at the bend of the Boyne for over 6,000 years. Their way of life, homes, food, dress and weapons are all on display here.
The centre also includes a partial full-scale replica of the chamber of Newgrange as well as a full model of one of the smaller tombs at Knowth.
Newgrange consists of a single tomb and a cross-shaped chamber leading up to it. The roof, built of overlapping large stones and sealed by a capstone, is still waterproof after 5,000 years. A circle of standing stones can be seen outside, surrounding the tomb.
Knowth is made up of two passage tombs in a single, central mound, which are however not connected to each other, surrounded by 18 smaller ones. Some of these had to be reconstructed, as the were damaged over the years. In the early Christian ages, the site was transformed to a defended site, which lasted into the Middle Ages.
The passage tombs were discovered during a mining operation in 1699 and came under protection in 1882, which helped preserve them to the current day. The late 20th century finally saw the land bought by the state and major excavation and preservation efforts were taken, leading to the sites becoming the fascinating attraction they are today.

All admission to Newgrange and Knowth is through the visitor centre, there is no direct access to these monuments. Visitors are brought from the visitor centre by shuttle bus to the monuments.
A little more recent history can be found at the Battle of the Boyne Visitor Centre just a 10 minute-drive away. The centre commemorates a large 17th century battle from the Williamite War, one of the largest to take place on the island of Ireland.
Photo Gallery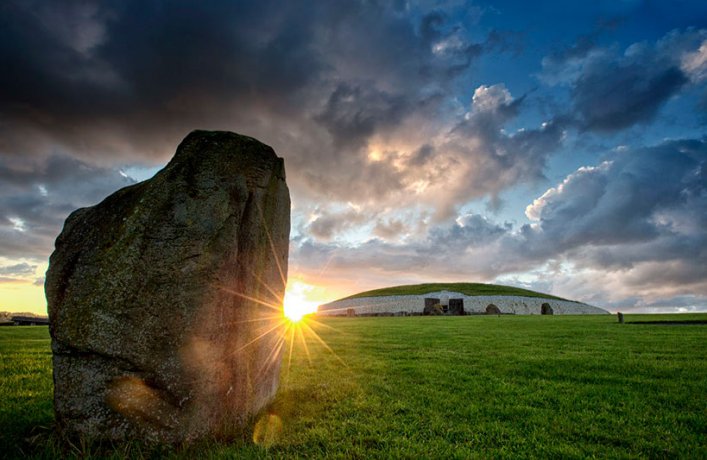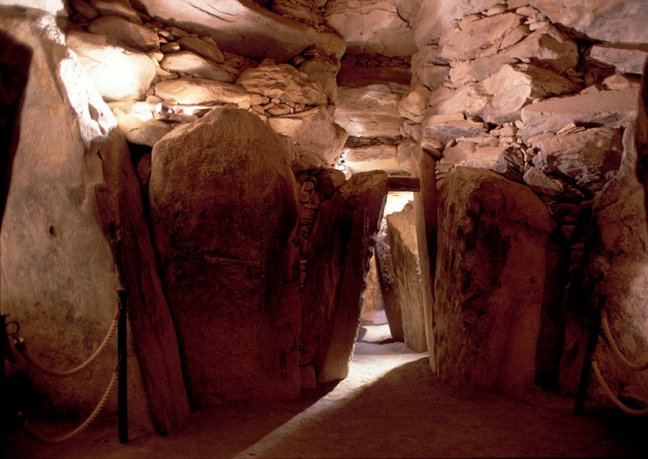 Useful Information
Opening Hours
October & February – April
Monday – Sunday
09.30 – 17.30
May & mid – end of September
Monday – Sunday
09.00 – 18.30
June to mid September
Monday – Sunday
09.00 – 19.00
November – January
Monday – Sunday
09.00 – 17.00
Notes for Group Leaders
Brú na Bóinne Visitor Centre and Newgrange are open all year round except from December 24th to December 27th. Knowth is open this year from April 1st until November 1st inclusive. Last admission to the Visitor Centre is 45 minutes before closing. Last tour of Newgrange and Knowth monuments is 1 hour 45 minutes before closing time of the Visitor Centre.
Pre booking is essential for groups – due to this attractions popularity we recommend prebooking 8+ months in advance. Visits to the tombs are guided in English, the visitor centre is self guided.
Duration of Visit
Allow an hour for each attraction: 1 hour for the visitor centre, 1 hour for Newgrange and 1 hour for Knowth. 3 hours in total for the 3 attractions.
Address
Brú na Bóinne, Glebe, Co. Meath
Location
Inspiration
What to do on your group trip
Why choose CGH?
Great Central Hostels
Choose from the top hostels in Ireland situated in ideal locations for group tours (2,500 hostel beds).
Unique Experiences
Book airport transfers, tours, attractions, meals plus lots more to make your group trip memorable & unique.
Local Expertise
Benefit from our 28 years' experience in handling over 800 groups to Ireland per year (30,000 students).