In this fun and action packed itinerary, explore the great outdoors of Connemara
Ireland is famed for having some of the most beautiful scenery in the world and there are not many better places to showcase this than in Connemara on the West coast of Ireland. With undisturbed landscapes that change colour at every turn, this tour encompasses the very best this stunning part of Ireland has to offer. From mountains to monasteries and from farming to fun and adventure, this epic tour will show why Connemara is perfectly suited for groups looking to experience life in the outdoors.
What is included in this trip to Connemara?
4 x nights accommodation in The Connemara Hostel
Multi-bedded rooms for the students / Twin or single rooms for the Group leaders
4 x Light Continental breakfasts each morning
Private coach and a driver guide for the duration of this trip from pick at the airport on day 1 to drop back at the airport on day 5
3 x Packed lunch each day to take out that includes a sandwich, a packet of crisps, a bottle of water and a piece of fruit
1 x Lunch at Killary Adventure centre including a mixed sandwich /a cup of soup /homemade flapjack /fruit /tea & coffee
4 x 2 Course Dinner served in your hostel
Entrance to the following visitor Attractions:
Kylemore Abbey & Gardens
Dan O'Hara Homestead
Full day at Killary adventure centre
Return Ferry between Rossaveal and Inis Mor Aran Island
Bike rental on Inis Mor
Where will your group be accommodated in Connemara?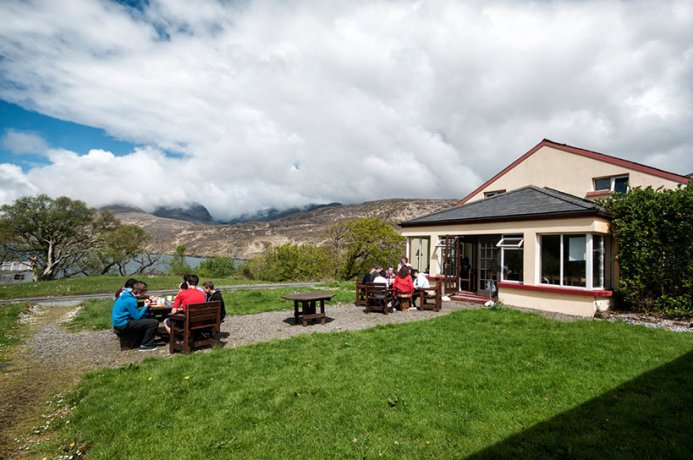 Ensuite rooms (shower & toilets in bedrooms)
Leaders accommodated in private rooms
Students accommodated in multi bedded rooms
FREE Continental breakfast
FREE WiFi throughout the hostel
FREE Bed linen
Fully equipped self-catering kitchen
Your trip to Connemara Day by Day:
DAY 1 – Arrival in Ireland
Arriving at Dublin airport you will meet your driver in the arrivals hall and start the journey to Connemara stopping on-route for a break.
Evening: Enjoying the comfort of your hostel you will be served a hearty 2-course dinner.
DAY 2 – Exploring nature in Connemara
Morning: Kylemore Abbey – Your group will get to visit the most spectacular and scenic Abbey in Ireland and its walled gardens, nestled against the hills of Connemara.
Afternoon: Dan O'Hara Homestead - Discover a slice of Connemara's heritage and history as your group visits this family run hill farm. From sheep herding to soda bread making, you will leave with a real insight into how farming was, and still is, a key part of life in Connemara.
Evening: Return to your hostel for your lovely 2-course dinner.
DAY 3 – Adventure in the Great Outdoors
Full day at Killary Adventure Centre – Be prepared for a day of thrill and excitement! With a host of land and water based activities to choose from, including kayaking, high ropes and giant swings, your group are sure to experience the great Irish outdoors in a safe and enjoyable way.
Evening: Going back to your hostel after a day of adventures, to enjoy your 2-course dinner.
DAY 4 – A trip to the Aran Islands
Full day trip to Inis Mor, Explore the largest of the Aran islands by bike and discover the numerous ruins and sacred sites around the island like the famous Dun Aengus, as well as its ruggedly beautiful landscape.
Evening: After a busy day out in the fresh air, sit back and relax as you are served your 2-course dinner in your hostel.
DAY 5 – Goodbye Connemara
Depart your hostel accommodation on board your coach and return to Dublin airport, stopping during the journey for a comfort break.
Useful Information
Accommodation
Being located in Connemara, you hostel will have stunningly beautiful surroundings but will also be quite remote. We suggest that you stock up on sweets and treats before getting there as there will be no local shops within walking distance.
Transport
For the whole duration of your stay in Ireland you will be accompanied by a driver guide. He will be the driver of your coach and is also a knowledgeable guide. There are regulations on drivers hours in EU, ref how long they can drive for and how long they must rest.
Activities
Killary – Depending on whether you choose land or water activities, suitable clothing will need to be taken with you. Safety equipment – ie Life vests are provided at the centre.
Aran Islands – We strongly recommend that everyone takes a rain jacket with them travelling to the island as the weather can be very changeable.