From emigration to rebellions and eventual independence - explore all that has shaped Ireland's modern history
For an island so small in size, Ireland has a history bigger than most. This educative, entertaining and inspiring tour will showcase the highlights of this country's past. Learn how the Irish populated the world, feel inspired how they fought for their freedom from the British rule and discover the many milestones of Irish political and historical moments throughout the years. Ireland is a proud country, one with a rich history, and this tour will show you exactly why.
What is included in this trip to Dublin?
3 x nights Dublin city centre hostel accommodation
Multi-bedded rooms for the students / Twin or single rooms for the Group leaders
3 x Light Continental breakfasts each morning
3 x Packed lunch each day to take out that includes a sandwich, a packet of crisps, a bottle of water and a piece of fruit
3 x 2 Course Dinner in one of our local partner restaurants
COACHING: Private airport transfer on day 1 and day 4
1916 Rebellion Walking Tour
Entrance to the following attractions:
Epic The Irish Museum of Emigration
Jeanie Johnston Tall Ship
Glasnevin Cemetery
GPO Witness History Museum
Back up & Support – 24 hour back up emergency support in destination
Where will your group be accommodated in Dublin ?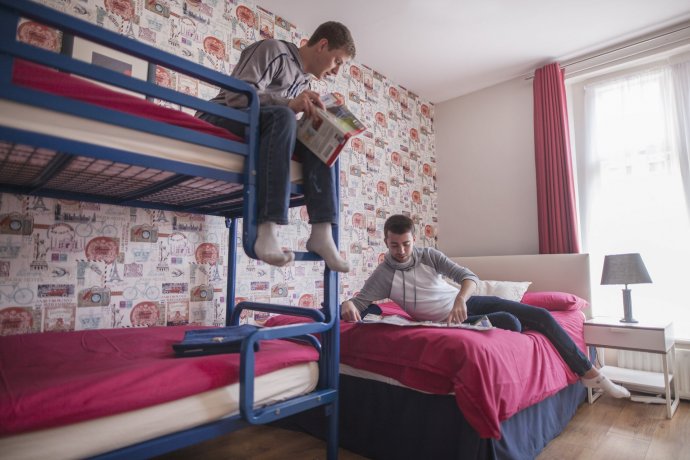 Ashfield Hostel in Dublin city centre
Ensuite rooms ( shower & toilets in bedrooms)
Leaders accommodated in private rooms
Students accommodated in multi bedded rooms
FREE Continental breakfast
FREE WiFi throughout the hostel
FREE Bed linen
Fully equipped self-catering kitchen
Your Political and Historical trip to Dublin Day by Day:
Day 1 – Arriving in Dublin city
On arrival at Dublin airport you will be met by your coach driver who will take you to your city centre hostel accommodation.
The rest of the afternoon will allow you some free time to settle in.
Evening: Experience first-hand the incredible Irish hospitality as you enjoy a lovely 2-course dinner at a local restaurant.
Day 2 – At the heart of the 1916 Easter Rising
Morning: 1916 Rebellion Walking Tour – Start today with a stimulating journey into Ireland's freedom as you uncover the story of the 1916 Rebellion. Known as being one of the most dramatic events in Ireland's fight for independence against the British, your expert guide will show you the key places around Dublin in which the battles took place and tell the stories that will make you feel as if you were there.
Afternoon: GPO Witness History Museum - Located in the iconic General Post Office building, the GPO museum offers an immersive and fascinating insight into modern Irish history as well as engaging stories about the 1916 Easter Rising. Uncover the important milestones of Irish history, learn the secrets of the rebellion and discover how these iconic moments in time have shaped Ireland to the way it is today.
Evening: Finish the busy day in a local restaurant where you can enjoy a well-deserved 2-course dinner.
Day 3 – Delve deeper into Irish History
Morning: Epic The Irish Museum of Emigration and the Jeanie Johnston – Discover just what it means to be Irish as you explore the wonder that is EPIC. Focused around the story of Irish emigration, discover just how big a part this small country played in ensuring you can walk into any town in any country and hear "I'm Irish".
Afterwards, cross the street to the Jeanie Johnston, majestically floating on the River Liffey, as you follow in the steps of the many thousands who left Irish shores in search of a better life across the Atlantic.
Afternoon: Glasnevin Cemetery – The people of Dublin say that "no one quite has a history like Glasnevin", and this is where you are headed this afternoon. From rogues and rebels to poets and presidents, the cemetery has many stories to tell and you will uncover more than a few as you explore this Victorian garden cemetery.
Evening: Enjoy one last evening in Dublin as you head to a local restaurant for your 2-course dinner.
On your last day in Dublin, your driver will come and collect you at your hostel and drive you back to Dublin airport.
Useful Information:
Glasnevin Cemetery is located about 15mins by bus from Dublin city centre. To get there, we can organise a private transfer for your group to collect you and take you to Glasnevin and drive you back into the city centre after your visit. Alternatively if you prefer to make use of public transport with your group, Bus 40, 40D or 140 will take you just outside the cemetery.