Blarney Castle in County Cork
Overview
The charming old-world village of Blarney is located 8 km north of Cork city. The Rock Close on the grounds of Blarney Castle is a curious place of ancient trees and stones, and by legend, a centre of druidic worship in pre-Christian times.
Blarney House is a fine Scottish Baronial house with a spectacular view of Blarney Lake. And, of course, the highlight of a visit here is climbing the treacherous winding stairs to the top of Blarney Castle where, upon lying on ones back and hanging upside-down, one can kiss the Blarney Stone. This will undoubtedly give the gift of fair words, i.e., the Gift of the Gab, a necessity for anyone visiting the Emerald Isle.
Photo Gallery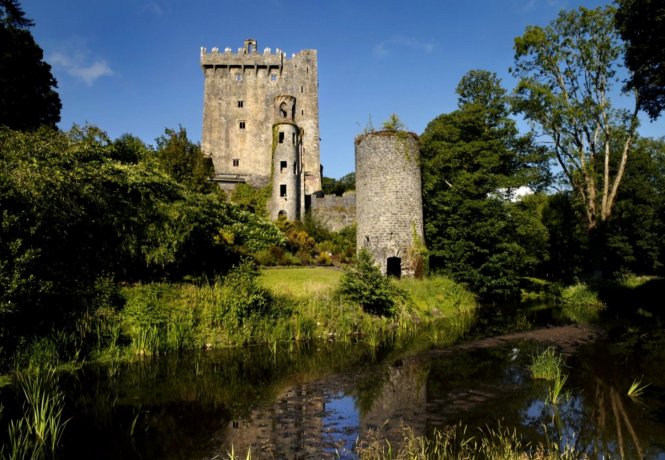 Useful Information
Opening Hours
Monday – Saturday
January – February & November – December: 09.00 – 17.00 hrs
March – April & October: 09.00 – 18.00 hrs
May & September: 09.00 – 18.30 hrs
June – August: 09.00 – 19.00 hrs
Sundays & Bank Holidays
March – October: 08.00 – 18.00 hrs
November – February: 09.00 – 17.00 hrs
Last admission 1 hour before closing time. Castle & Gardens are closed 24th and 25th December.
Blarney House is open from 1st June – 31st August from 10.00 to 14.00 hrs, Monday to Saturday.
Notes for Group Leaders
All visits are self guided.
Duration of Visit
Approximately 60 – 120 minutes
Address
Blarney, Co. Cork
Location
Approximately 20 minutes drive from Cork City.
Inspiration
What to do on your group trip
Why choose CGH?
Great Central Hostels
Choose from the top hostels in Ireland situated in ideal locations for group tours (2,500 hostel beds).
Unique Experiences
Book airport transfers, tours, attractions, meals plus lots more to make your group trip memorable & unique.
Local Expertise
Benefit from our 29 years' experience in handling over 800 groups to Ireland per year (30,000 students).