One of the best things about working in the tourism industry is being able to experience the great visitor attractions Dublin and Ireland have to offer. Even better when it means a few hours out of the office.
Our recent jaunt was down to the Irish Whiskey Museum with my friend and colleague Larisa. While whiskey would not be a regular tipple of ours we were excited to see what the first Irish whiskey museum in the world has to offer. Not just us but also our Dublin hostel clients.
Getting there
The day started off well, there were good omens about. The sun was shining and the city was buzzing. Getting to the museum was very easy, it is located right in the city centre which can be accessed by bus, train, Luas, car, walking or cycling. We walked as our office is not far from Grafton Street where the museum is located.
When we arrived at the museum we were welcomed by reception with a friendly smile and informed that the tour would commence in a few minutes.
While we waited we took the time to browse the shop which stocked an abundance of whiskey merchandise and lots of lovely Irish whiskey. I made a mental note to come back and get a few souvenirs as a reminder of my day.
There is also a bar in this area where patrons can sit and relax before or after their tours with a drink and a snack while looking out onto the bustling College Green area below.
The tour
Our guide Mark announced himself in the reception and led Larisa and I along with three other guests upstairs to a seating area in a room with a large screen. We were surrounded by jars of spices and exotic flowers and a strange contraption with a burning light (we later discovered was used in the past to make perfume!).
Mark then brought us through a visual presentation detailing the history of Irish Whiskey which did – as most Irish people always believed- originate in Ireland and was known as 'Uisca Beatha' or water of life. We heard of its origins from the monks in the monasteries and its use for all kinds of ailments. Our guide wholeheartedly believed this to be still true and admitted to using a few whiskeys in the pub to cure any illness!
We were then brought to three more rooms- one a recreation of an old Irish pub where we were invited to dance or sing (the guide said someone is yet to take him up on the offer!). The next a Victorian bar with characters from Ireland's whiskey distilling past and the last room with walls lined with whiskey bottles ranging from the early 1900's to today's best and most popular brands. Our guide Mark was knowledgeable and kept our attention throughout the tour – along with throwing in a joke or two.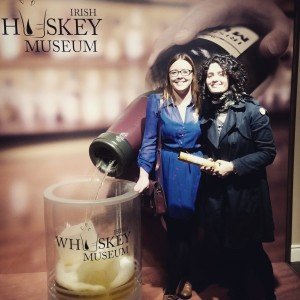 Mark left us in the tasting room where we were met with a very large glass and bottle of whiskey (for photos later!) and a long stylish bar. Here a master taster took us through the scents and flavours of 4 types of whiskey and we received a certificate to prove our new found status as 'Irish whiskey Museum ambassadors'.
The end
Overall the visit was a very enjoyable one and we both liked the casual nature of the tour. Even if you don't have a serious interest in whiskey you will leave with a general overview of some of Ireland's history and culture. I left the visit with a wider knowledge of the history of whiskey in Irish culture and also a new found respect for Ireland's role in sharing this famous drink throughout the world.
Group Tours
We are confident that this will become a firm favourite with our Dublin hostel groups no matter what age. Under 18's cannot partake in the whiskey tasting part (soft drinks will be provided) – but the tour is very informative and interactive making it ideal for all age categories.
Opening Times: 10:30 am (first tour 11:00 am)- 20:00 pm (last tour)