The DART – Dublin's Commuter Train Service
Taking daytrips all around Dublin is a breeze thanks to our DART – the Dublin Area Rapid Transit, a train servicing Dublin Bay!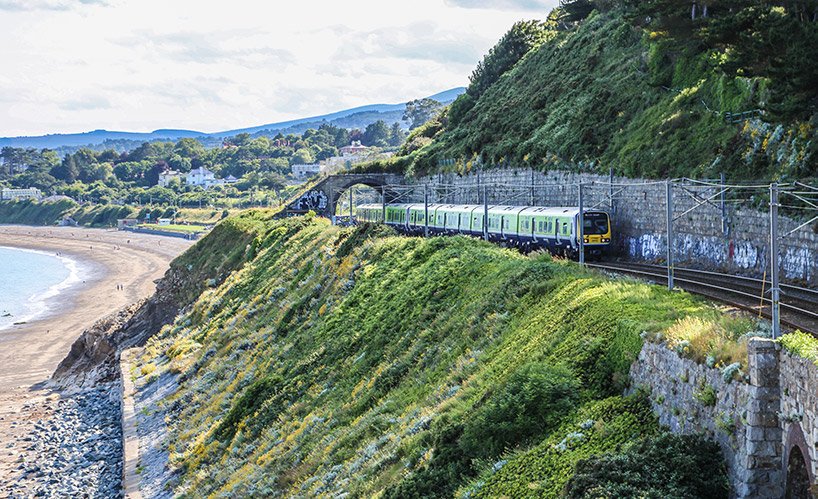 The scenic route runs from Greystones in the south over Dalkey, Dún Laoghaire, Dublin City Centre to Malahide and Howth in the north. Out of all these, Howth (rhymes with 'both') is the first thing we recommend to groups exploring Dublin Bay and its sights – here's why:
Starting Your Day in Howth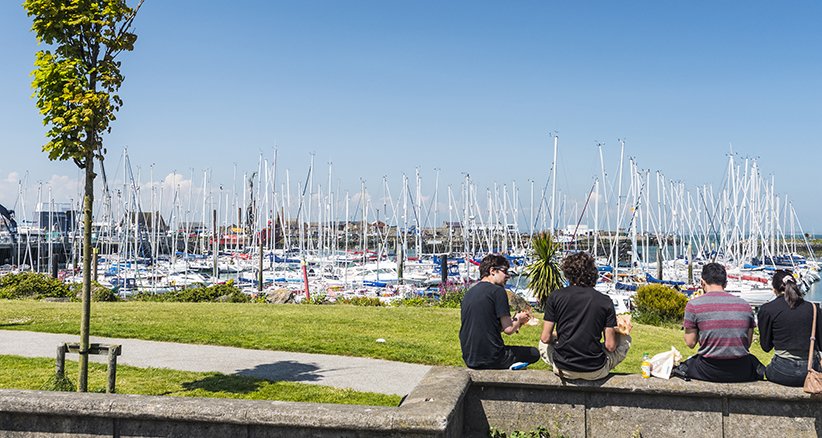 Coming into the harbour on the DART, you will already see Claremont Beach. It's a perfect opportunity to get some sand between your toes and your feet into the sea if your group is staying in Dublin exclusively. Claremont is great for a stroll, offering magnificent views of Ireland's Eye and the coast unfolding further to the north, building up an appetite for…
Fish and Chips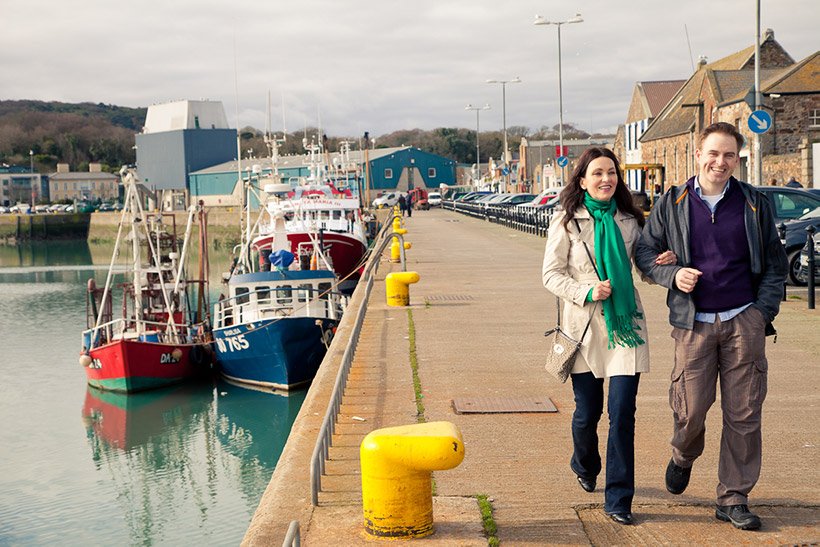 Howth is nothing less than Dublin's own little seafood heaven, with its numerous restaurants stretching down the Western Pier towards the lighthouse. Our recommendation: Check out the Oar House. The fish and chips are served on a wooden board, tasting like the fish just jumped straight from the boat onto your plate!
For a more casual experience, join the queue outside Beshoff's. Grab a portion of their fish and chips, best with lots of salt and vinegar, stroll along the pier or find a bench on the green and enjoy some people-watching. If a remote spot is more to your liking, there are steps to sit on at the very end of the Western Pier. This spot is also quite popular with street buskers!
Exploring Howth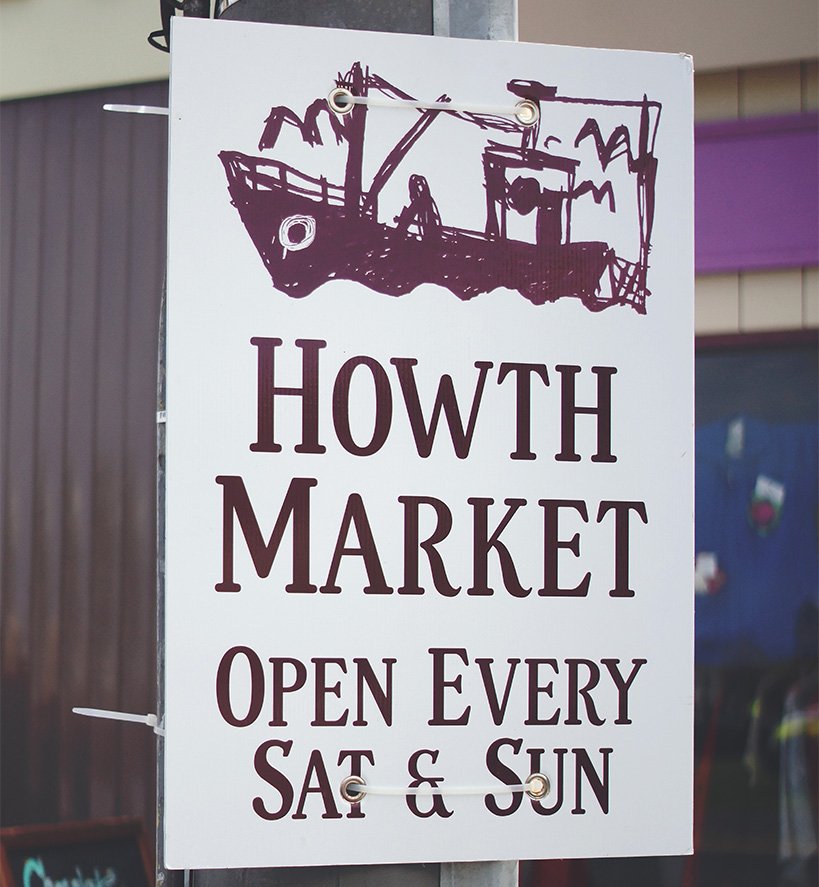 Howth's most prominent feature is of course the pretty harbour, which is used by both working fishing boats and pleasure craft like Dublin Bay Cruises taking you around Ireland's Eye, a small uninhabited island popular for its unspoilt nature, its bird colonies and the seals which can be observed there. It's a great half-hour trip, especially if you want to see some animals in the wild!
Howth Market, right across from the DART station your group came in on, offers diverse and interesting food, both local and from all over the world. Not only that, Howth Market is also a fantastic stop if you're looking for unique gift ideas or artisan produce. The market is only open on the weekends, but if you're here on a week day, don't despair: Amore Gelato, Howth Market Deli, Gift From Howth and Unique Oak, the village's favourite woodcraft shop, are open seven days a week!
If you make a stop here, consider getting some provisions for the rest of day. Maybe your group is even in the mood for a little hike?
Howth Cliff Walk & Hikes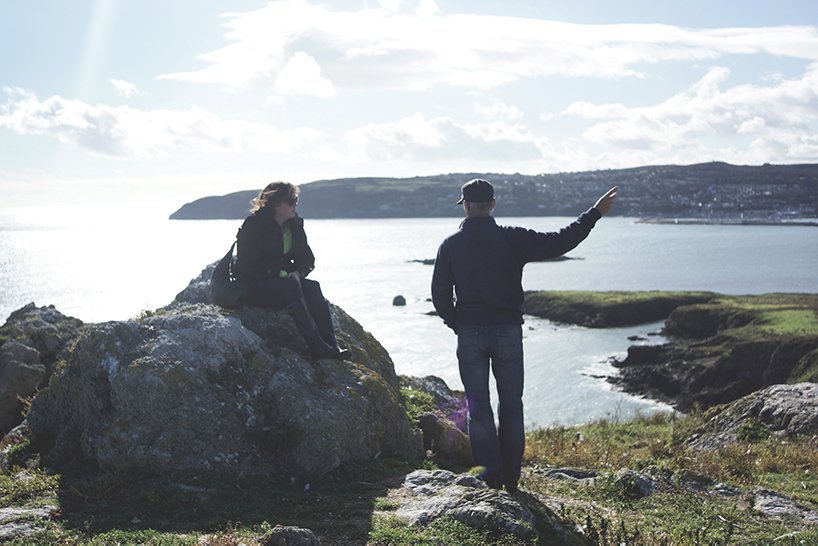 The hike up the Hill of Howth is one of most magnificent routes you'll find in Dublin Bay. Venture across the cliffs to Baily Lighthouse on the South-East of the peninsula and all the way over to the Martello Tower in Sutton if you're feeling fit! The Ben of Howth, the peninsula's highest point, is easily identified by the radio tower there. The views are astounding, as Dublin's suburbs and Howth Harbour are all visible from up there. The scenery is also stunning – you won't believe you're just a short walk away from the city. There's even a pub up there – if you're out of breath, take a break at the Summit!
If your group wants to see everything Howth has to offer, we recommend you book a Howth Safari with our favourite Howth guide Shane. Your group will get to explore the surprisingly diverse nature this peninsula has to offer!
The DART to Howth departs about every 15 minutes, and an adult day return ticket costs €6.25. Look for 'Howth' on the front of the train, as the line is shared with trains serving Malahide (another lovely place to visit). All of our Dublin hostels are less than a five-minute walk from a DART station. We recommend either Connolly Station North of the river or Tara Street Station if your hostel is on the South side.
If your group would like a guide to show them around this lovely fishing village, Pat Liddy's Walking Tours offers a great tour of the harbour and the cliff walk. Insider knowledge guaranteed!
Depending on the route your airline takes, you can even wave goodbye to Howth as you leave, because many flight routes pass overhead. You can clearly see the pier, beach and peninsula for one last farewell.
If you're planning a group trip Ireland, Howth should definitely be on your itinerary! If your group decides to stay in a Celtic Group Hostel, we will gladly arrange this daytrip and many more attractions and activities for you. Can't wait to go? Then book your trip now!
See More:
More Inspiration

10 Great Free Things to Do in Ireland With Your Group
Team Celtic Group Hostels
19 April 2018

6 Of The Most Stunning Cathedrals In Ireland
Nicola Foley
20 July 2017

9 Tours in Ireland to Give Your Group a Local Experience
Nicola Foley
13 July 2017
View More